A1GP WORLD CUP - oficiální kalendář sezony 2007/08 právě zveřejněn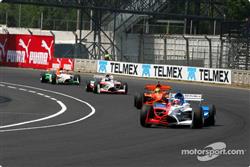 A1GP WORLD CUP OF MOTORSPORT
2007/08 SEASON
A1GP World Cup of Motorsport is pleased to confirm the following race dates for its 2007/08 season.
Date
Event
1) 30 September 2007
A1GP Zandvoort, The Netherlands
2) 14 October 2007
A1GP Brno, Czech Republic
3) 4 November 2007
A1GP Asia – venue TBC
4) 25 November 2007
A1GP Sepang, Malaysia
5) 16 December 2007
A1GP Zhuhai, China
6) 20 January 2008
A1GP Taupo, New Zealand
7) 3 February 2008
A1GP Sydney, Australia
8) 24 February 2008
A1GP Durban, South Africa
9) 16 March 2008
A1GP Mexico City, Mexico
10) 6 April 2008
A1GP Shanghai, China
11) 4 May 2008
A1GP Brands Hatch, Great Britain
Commenting on the third season's race calendar, A1GP chief executive officer, Pete da Silva said: 'This year's race calendar sees a few changes and the addition of one new venue which I feel reflects the evolution of this fantastic racing series.
'A1GP is growing throughout its markets, developing an exceptionally strong fan base across Asia. Our provisional television ratings clearly demonstrate that we have created a firm foothold in one of the biggest emerging markets in the world and it is for this reason that we are delighted to have the opportunity to return to China twice again this season. 2007/08 is going to be a bigger and better season with so much to look forward to.'
The venue for the 4 November event will be confirmed in due course following the conclusion of negotiations with the relevant parties.
www.A1GP.com.
Vaše komentáře